I noticed that FlashDevelop now supports custom UI themes (it used to only support syntax color schemes I think…). I began looking for a nice dark theme but didn't find one, so I decided to make one.
It doesn't seem possible to customize all the colors, for example the gray borders and the scrollbars, but most colors can be changed.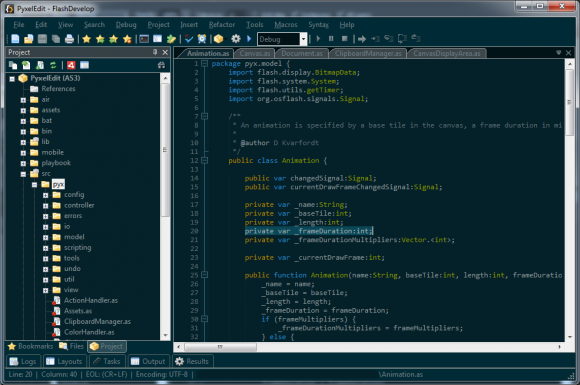 The colors are based on this file by David Pierce https://github.com/dapierce/flashdevelop-colors. I altered the scheme a little bit to suit me better: darker background and other selection and highlight colors. I also changed the font to Consolas (since I didn't have Source Code Pro).
Syntax color scheme: DK_Solarized_Dark_Syntax.fdz
UI theme: DK_Solarized_Dark_UI.fdi
Run them with FlashDevelop, or import them with Tools > Select UI Theme…
You may need to restart FlashDevelop for all colors to take effect.
Enjoy!